The Duke of Gloucester Codes & Riddles
There are a host of Occult Codes and Riddles associated with The Duke of Gloucester Title and the details of Mr Kenneth Robert Whitehead, (KRW), (also known as 'Paris'), alias Paul Curtis, the publicly recognised illegitimate son of Prince William of Gloucester and Mrs Zsuzui Starkloff, with whom Prince William was having an affair for 2 years during 1968 to 1971.

However, we believe that not all of the Police and Intelligence Officers involved with the Concealment and Abduction of Kenneth in 1969-1971 were compliant with the operation as we have found a long list of Occult Codes within the Official Records of KRW/'Paris' that provide links to Prince William, Royals, Mrs Starkloff and The Occult. These have been developed extensively since.

A raft of occult links and Codes have been provided in BRM Republican Press Releases previously and these current codes further verify that not only was 'Paul Curtis', the pre-adopted name chosen, (likely by The Royals and Police), for KRW/'Paris' but so was his adopted name Kenneth Whitehead.

There have been 2 books published upon this subject of Kenneth being Prince William's son, though with much less information as the case has substantially developed over the years. The first book that outlined Kenneth's circumstances as an illegitimate Royal was published in 1994, followed by an updated version of the same book content though with new evidence which was written as an autobiography until 1998 and completed by friends, associates and family members in the wake of Kenneth's tragic car crash of 10.02.1999 in which Kenneth suffered the serious disabilities of total blindness and paraplegia.

Kenneth is unable to verify the complete content of either book given the circumstances of having to rapidly publish each book coupled with the numerous people involved with contributing to the publication, though both books completed in 1994 and 1998 / 2001 do give a strong indication of the fact that Kenneth is the son of Prince William of Gloucester (d.1972).

Given the circumstances of Kenneth's difficult situation, the 2nd book had a satirical introduction which was designed to release highly sensitive information from Britain, a politically secure state albeit with the image of freedom, into the public domain. The book was titled: 'Prince Richard, The Duke of Gloucester's Illegitimate Son', which was a mildly amusing retort at Prince Richard. Diplomacy was the key back in the dark days of 1999, when Kenneth may have been victim to a Murder Plot on 10.02.1999.

A slightly obscure book, this record set down a great deal of unknown sensitive security programmes and systems that have recently been confirmed by the likes of Wikileaks and Edward Snowdon. In retrospect, this document shall likely be recognised as 'significant' for it's contribution to the truth and exposure of the British Government and Allies for serious failings in the manner of treating individuals and groups and gives some evidence to the fact that western security services are little better, if at all, than the likes of Nazi and Stalinist Regimes that have been evident throughout history, the fact is that Britain and America are a little more discrete and better salesmen in convincing an unsuspecting, population.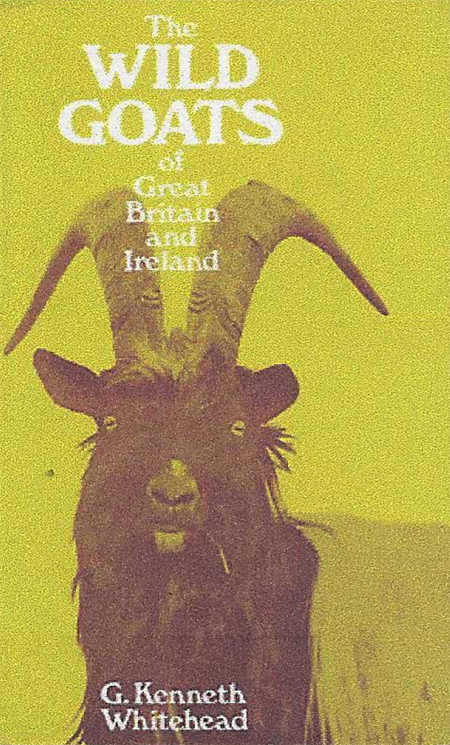 The only other Kenneth Whitehead that can be found in Amazon Books is a Deer Hunter by the name of 'G. Kenneth Whitehead'. Animals with horns are associated with The Occult, especially Goats, such as the book, right, that author, G. Kenneth Whitehead wrote in 1972, same year as the death of Prince William of Gloucester. Letter 'G' is 7th of the Alphabet, 7 being the unluckiest number in Witchcraft or a Witchcraft 13, the other Devil Number of 666, thus the Occult Puzzle appears to suggest, '666 Kenneth Whitehead' - Luciper or Lucifer which is another anagram puzzle written into the Gloucester Title Code to provide a link between Paul Curtis and the Title of Gloucester. 

This appears as an accurate and direct 'occult code' to Kenneth's circumstances and gives some indication that the British Military were involved in naming Kenneth twice, his pre-adopted name of 'Paul Curtis' and also his post-adopted name of 'Kenneth Robert Whitehead'. Kenneth was adopted to Mr & Mrs Iain Robert Whitehead with Mr Whitehead being a rating and later Chief Petty Officer in the Royal Navy Medical Branch, the ideal cover and to act as a 'watchman' for the British Police as to Kenneth's whereabouts and activities so 'beastly behaviour' upon Kenneth by UK Security could ensue…
Duke of Gloucester Codes



 Above code is a direct link of Kenneth's Official British Birth Records, having the false identity of infant, 'Paul Curtis' linked to the Gloucester Title and was found as the result of an STV (Scottish Television) Broadcast upon the subject from 1987, which alerted Kenneth to the circumstances of his birth.
 Below, Kenneth's pre-adopted name, 'Paul Curtis' readily converts to an occult title - 'Anti-Christ'.
1. Duke of Gloucester Initials amount to D. O. G. or 'Dog' as in small furry pet, man's best friend. The idea was to give Kenneth, the rightful Duke of Gloucester a 'Dog's Life', ie; poor treatment and continue 'The Dogma'.

2. Duke of Gloucester Initials amount to D. O. G. or dog as in small furry pet, man's best friend. However, apply the serious 'Witchcraft' aspect to this issue and 'Upside Down Treatment' to Kenneth and Kenneth becomes the Royal's 'Worst Enemy' as an abused illegitimate Royal Child.

3. The Dog may also be a Satanic reference to the Jackal, as the Devil is supposed to be born from a Jackal, though this is slightly back to front once more as the D. O. G. is the male in this instance, in Prince William, the Duke of Gloucester in waiting as he was at the point of Kenneth's inception in 1968-1969.

4. G. D. can also appear as Duke of Gloucester or Initialled as G. o. D. However, what has happened to Kenneth as the likely rightful Duke of Gloucester has been nothing short of 'Devilment' or being abused by 'The Devil' or 'The Devils' which makes sense in Witchcraft terms as this maltreatment has been the opposite of Godly or Heavenly for Kenneth, though the maltreatment of Kenneth may be Godly or Heavenly for the Public Royals, Police and Military Advisors of Royalty as there is obviously an Occult Sect operating at the top of The British Establishment.