A Human Rights Information Site
By all evidence ....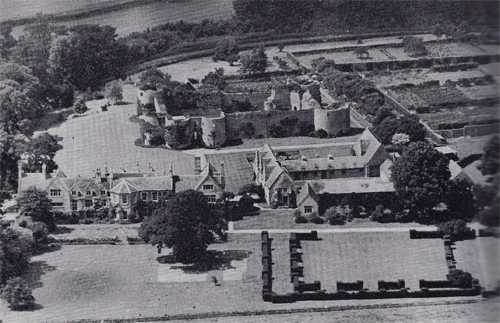 Barnwell Manor Estate in Northamptonshire. The 2500 acre Gloucester family home
Prince William of Gloucester fathered a son to his main love affair of the 1960's era, Mrs Zsuzui Starkloff, a Hungarian - American lady, before his untimely death in an air crash on 28th of August 1972. 
It appears that Mrs Starkloff returned from Japan, where she supposedly met Prince William for the first time in September 1968, to have the child in her adoptive country, America and New York, where Zsuzui had a rented apartment in Manhatten. Zsuzui when pregnant would most likely go home to America.
The love child was covered-up and transported to Britain and given a false identity as the infant, 'Paul Curtis', then adopted to a father in the Medical Branch of the British Royal Navy, who would provide access to the child and act as a 'watchman' for the UK Authorities. Controls were placed upon the victim.
Chief Petty Officer Iain Robert Whitehead (RN), was the adopted father of the child, Mrs Pamela Whitehead the new mother.
A new name was given to Prince William's son, now adopted into his new life, Kenneth Robert Whitehead, the replacement identity & the case then covered-up.
Such incidents of 'child swapping' and 'unusual deceit' especially with regards to covering-up the origins of a Royal Child in this manner is suggestive of a darker side to an obvious Royal Security plot and points to occult involvement, evidenced further by the high number of obvious 'witchcraft codes' found in all of Mr Whitehead's Official British Records that links the Gloucester Title to Prince William, Zsuzui Starkloff and other elements to Mr Kenneth Robert Whitehead.
A large mass of evidence has been gathered in this case to prove that Mr Whitehead is indeed Prince William's son, which amounts to over 250,000 pages and items upon the subject.
The British Royal Family is traditionally one of the wealthiest families in the World and the most powerful and influential family in Britain. Mr Whitehead lives in England though spent much of his life in difficult circumstances in Scotland and studied at University, a Patron to Charities and became a self-made millionaire in his late 20's.  (Note: Inaccuracies to this website may be the work of MI5). 

Although we do not blame The British Royal Family for such difficult circumstances as those noted within these chapters, it is certain that many members of British Intelligence have been conducting 'terror campaigns' against victim, Mr Kenneth Robert Whitehead and these abuses must cease forthwith. This unique case is over 25 years old and has been solved.

The information noted within these volumes along with 2 books that have been written upon the complex subject in 1993 and 1998 have never been questioned at all by The British Royal Family or their representatives and there has never been any threat of Legal Action of any kind against Mr Whitehead over the statement that he is Prince William of Gloucester's son. This is a true story and one of the most remarkable cases in our time.

We believe that there is no doubt that Mr Kenneth Robert Whitehead is Prince William of Gloucester's son.
Purpose of this information site is purely to offer the information to a wider audience of people to understand these difficult circumstances and to offer a resource for various organisations, including the media, to refer to.

The International Media are welcome to publish this story as the case now draws to a close